MGTF VHS Road Car Demonstrator
Our MGTF 160 is fitted with our VHS Ltd ride and handling improvements. It is also being used to develop new ideas. These include front axle kinematic improvements already proven on our race car and an ergonomic development to improve driver comfort. Contact us if you want to try our results for yourself.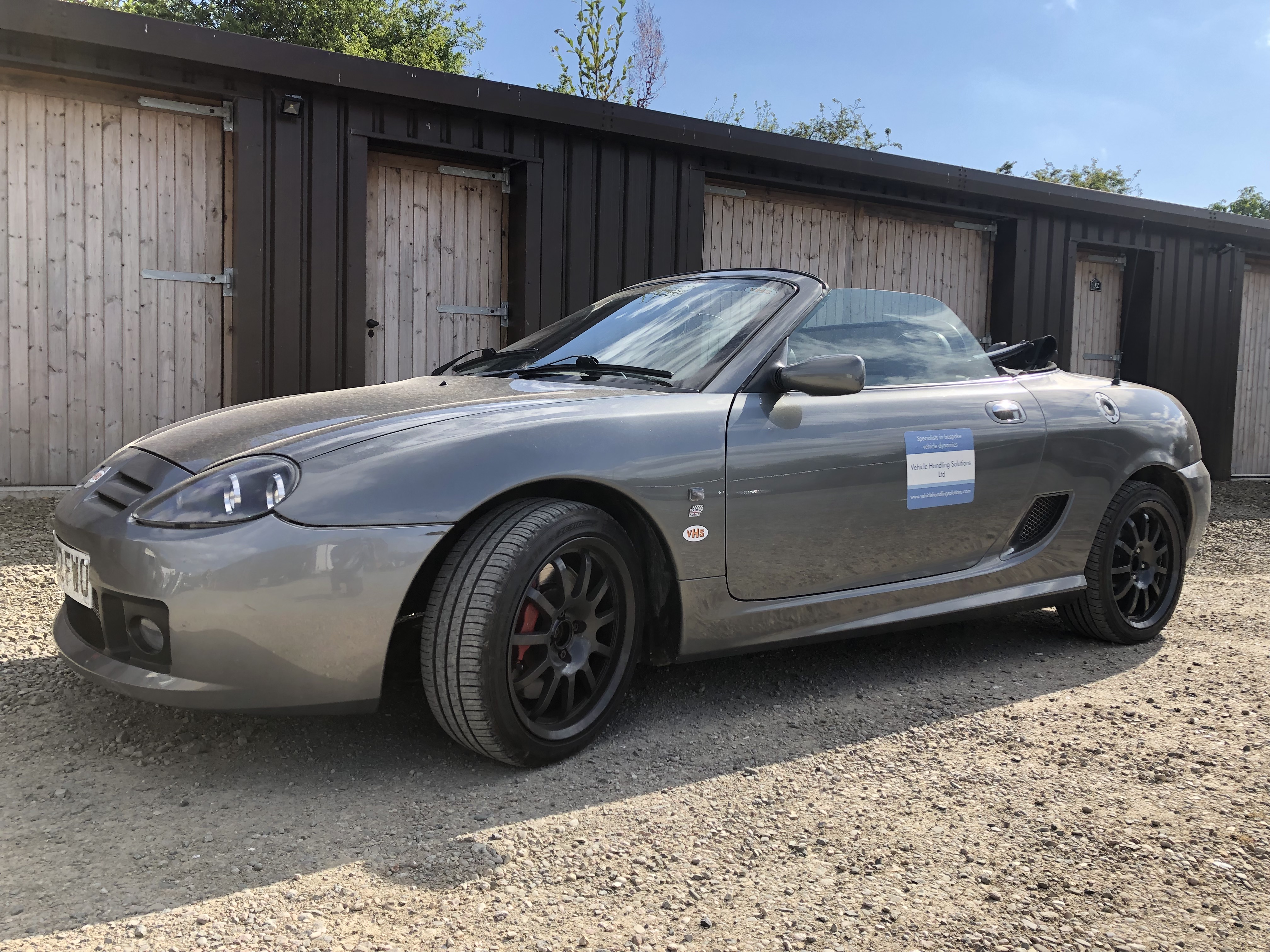 ---
MGTF VHS Race Car
Our MGTF 160 is a modified competition car tuned for sprint and hillclimb speed events. We use it to test our ideas and to put our expertise into practice. It is also very exciting to drive!
As can be seen from our results below, the car is delivering an outstanding performance. The engine is a completely standard TF160 item, so why is it so quick?
Weight reduction to 875kg (without driver) improves power to weight ratio and agility
VHS Comfort Damper Kit provides better body control particularly during rapid direction changes, leading to a more consistent and exploitable handling balance
Bespoke wheel rates, suspension travels and roll stiffness distribution have been developed to suit the weight of the car and driver preference
VHS Big Rear Brake kit utilising the original calipers but operating on a bigger disc gives improved stopping power and fade resistance
New front axle geometry and wider track via new wishbones to improve handling, grip, braking stability and security at the limit
New front and rear wheels with revised offsets to suit the new axle geometry and to increase the rear track width.
Bespoke aerodynamics give balanced down force at both front and rear axles to give consistent responses through the speed range – giving the driver confidence to maintain speed
In summary, the car has very forgiving handling. As such, it is relatively easy to drive at the limit compared to most mid-engined cars, allowing the driver to make best use of the available horsepower
Coming soon – power, axle kinematics and aero upgrades – plus an updated 'look'
---
Competition and Track Day Car Analysis
Your car should be agile and responsive, yet with a high degree of stability to let you exploit its performance
Let us help you to enjoy your driving by showing you how to make your car better
Analysis, critique, advice, help………..all part of our service to you.
Contact us to discuss your requirements.
---
MG3 VHS Road Car developments
Our activities on MG3 have included both a ride improvement kit, plus a sports suspension package which includes adjustable ride height. Here, the car is fitted with our prototype sports kit and has just been subjected to an evaluation of ride and handling on our challenging rural road loop.
It has been used for the evaluation of Eibach adjustable front camber bolts which can now be purchased through us.
We are also supporting the development of a high performance MG3, by Retro Sports Cars Ltd. The car features much stronger engine performance with braking to match and a range of personalisation ideas. It has been an extremely useful test bed for our suspension development work. Please take a look at their website. www.retrosportscars.co.uk/projects
---
MG ZT260 VHS Road Car developments
Our MG ZT260 continues to be used to explore ideas for maintaining and improving these interesting vehicles.
We have developed a new spring kit for ZT260, taking inspiration from the Xpower spring kits previously offered for MG TF, ZR, ZS and now ZT. It will offer a lower ride height with increased spring rates to enhance agility. Please contact us for details.
It has been used for the evaluation of Eibach adjustable front camber bolts which can now be purchased through us.
Here, our car is seen tackling the 'esses' at Shelsley Walsh Hillclimb when supporting the MG Xpower 15th anniversary in 2017.
---
Nissan 200SX VHS Road Car Developments
Originally these cars were set up with a grand tourer feel, having plenty of comfort, and ability to soak up long distances. Unfortunately, we felt that control and precision was a little lacking when it came to the twisty stuff.
The objective with our Nissan 200SX is to revise the roll and bounce springing to make the car more predictable and enjoyable to drive across country.
---
Triumph Dolomite Sprint VHS Road Car Developments
One of the modifications to our Sprint entails a somewhat comprehensive upgrade to the power unit, which should enable the rear drive chassis layout to be exploited more fully!
---
MGF VHS Road Car Developments
Our MGF has been used for a comprehensive assessment of 15″ and 16″ tyres, reports of which have been published by the MG Owners Club, in their magazine 'Enjoying MG'.
The next task will be to assess our new fully adjustable (on car) replacement lower arms.
When completed, it will be used for a damper tuning exercise. Our aim is to develop an external damper specification which provides the body control of the MGF Trophy, but with much more mature and sophisticated ride comfort. We like a challenge!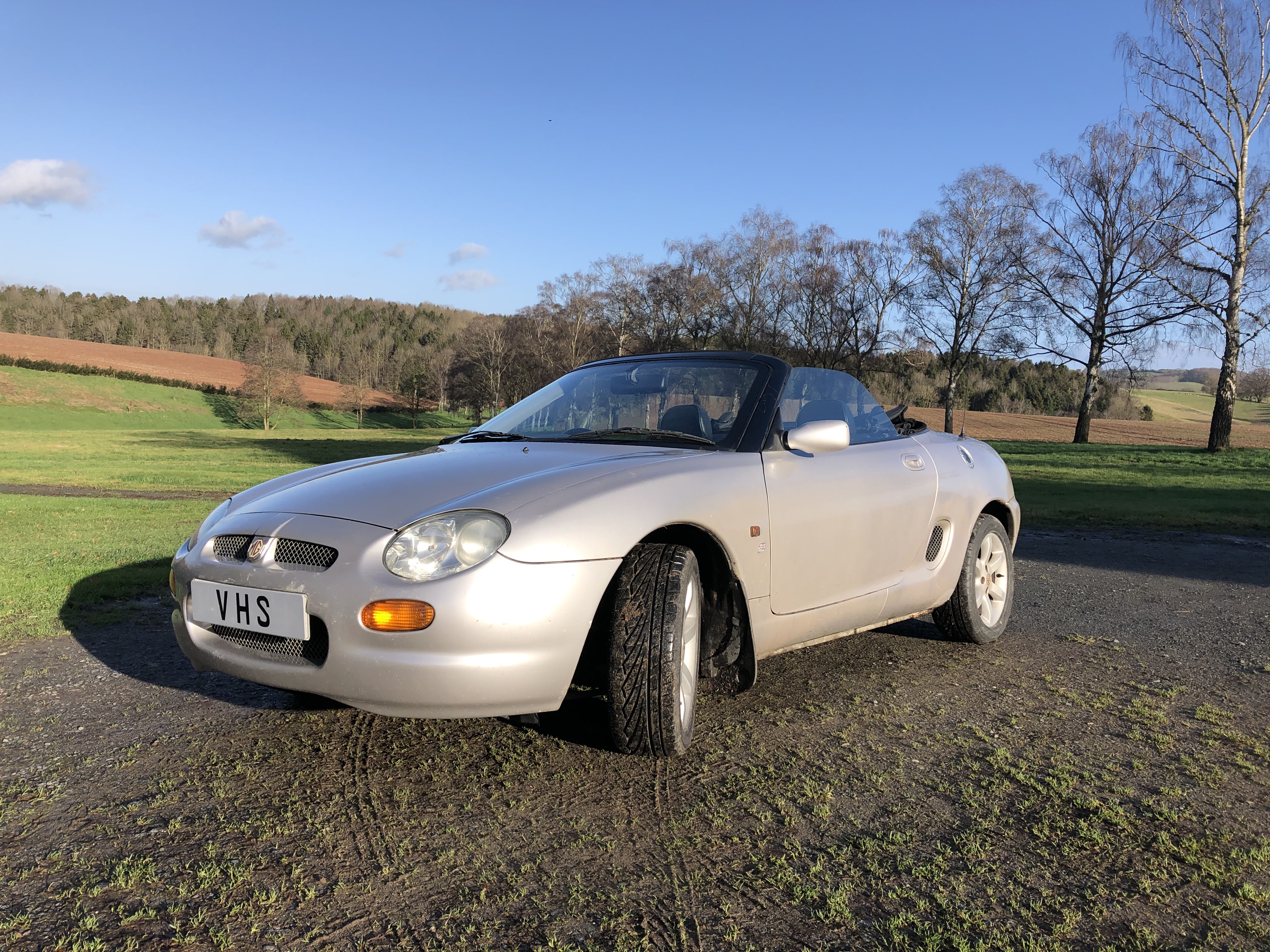 ---
Rover 75 VHS Road Car Developments
The Rover 75 is a beautiful car and had the internal target of 'best riding front wheel drive car in the world' during its development. (Front wheel drive was added because BMW owned Rover……).
The ride quality is a blessing, even now.
We will develop and check parts to help keep these cars on the road, in the condition that they deserve.