New for MG3
MG3 lowering spring kit. Suitable for all versions of MG3, our lowering spring kit is a set of Eibach springs which lower the car 20mm and provide a more sporting handling balance. They have been designed to work with the original equipment struts and dampers. A straightforward and direct replacement for the original springs. Kits are now available at £185+VAT.
MG3 sport kit. Our MG3 sports suspension kit uses a set of four Bilstein B14 dampers and tailored Eibach springs, tuned by us specifically for MG3. Ride height adjustability is included at the front by adjustable spring seats (as shown in the photo). The monotube, gas pressurised dampers provide a substantial increase in camber stiffness, giving improved response and cornering power. The tuning has been optimised for ultimate road driving; to provide increased agility with the maturity of ride control expected from VHS Ltd. The kit is in production development and due for sale in Q4 2020.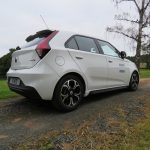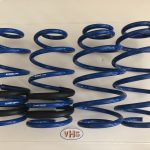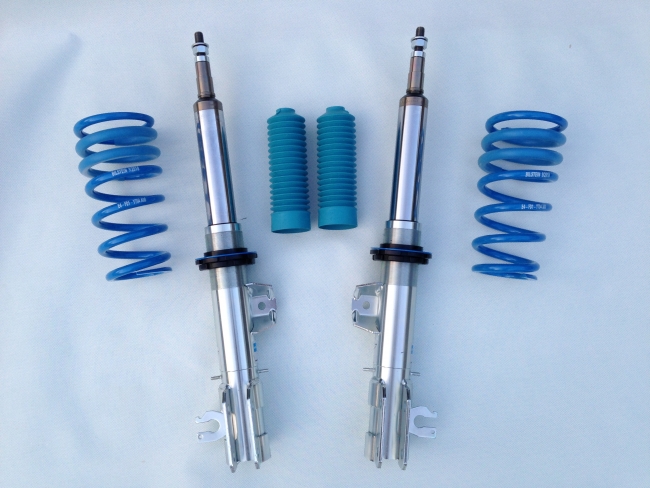 MG3 ride comfort kit. Our MG3 ride improvement kit uses a pair of tailored rear springs and spring aids, tuned by us specifically for MG3. Whilst being endowed with a sporty and agile dynamic performance, the standard MG3 can suffer from jerk disturbance. This can become tiresome, particularly for rear seat passengers. Our kit provides a simple and effective means of improving ride quality, whilst retaining the MG dynamic character. Now available at £152+VAT.
MG3 rear spring aids. As used in our ride comfort kit, these spring aids provide a more subtle contact rate whilst preserving full bump impact protection. Retains the sporty character of your MG3 but improves the ride quality. They are a direct replacement for the original spring aids and a quick/easy fit. Now available at £30+VAT.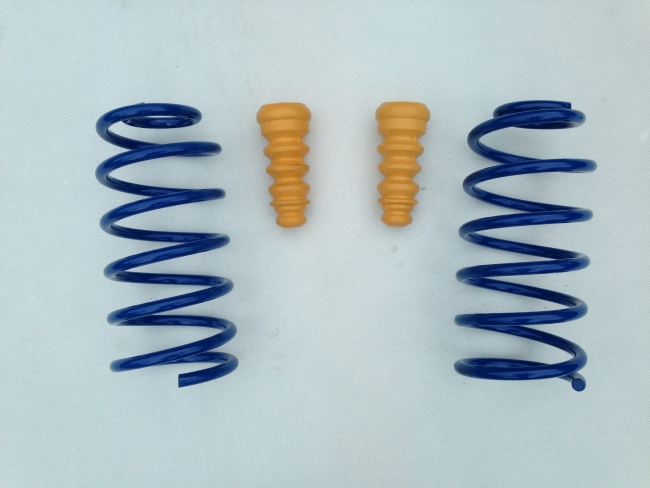 ---
New for MG ZS SUV (petrol and EV)
MG ZS SUV dynamic suspension kit. We are currently developing a full monotube suspension kit using Bilstein monotube dampers and optimised spring rates. It will provide a much more dynamic proposition with the maturity of ride control expected from VHS Ltd. Contact us for details and to register your interest.
MG ZS EV dynamic suspension kit. Also in development, a Bilstein damper kit to provide comfort and confidence by controlling the additional mass of the MG ZS EV. Contact us for details and to register your interest.
---
MGTF
MGTF larger front and rear anti roll bars to provide reduced roll and modified handling balance to suit your driving preferences. Includes ball jointed drop links for extra response and improved comfort. £260+VAT Contact us for details.
MGTF new original equipment springs now available (standard and comfort). RKB000521, REB001220 and RKB000880 all in stock. £15+VAT per spring. Contact us for details.
MGTF new original equipment subframe mounts now available. New price £12.50+VAT each. Contact us for details.
MGTF limited stock of new original equipment rear axle parts. Lateral link assy RGD000571 at £30+VAT each. Anti roll bar link assys RGD000660 (RH) and RGD000670 (LH) at £6+VAT each. Refurbished upper arm assembly RGD000920 (RH) and RGD000930 (LH) at £60+VAT each (exchange). Contact us for details.
MGTF 'Ultimate' suspension kit. A complete solution for MGTF ride and handling requirements. A package of dampers, springs and anti roll bars. Our optimum package for MGTF. Contact us for details.
MGTF 'comfort' suspension kit to improve ride comfort and body control via our own development of high quality Bilstein dampers – including adjustable spring seats to tailor ride heights to your requirements. We can confidently claim excellent results with this kit, given the overwhelmingly positive feedback from our customers! £599+VAT. More details.
NEW PRODUCT for MGTF from VHS. Our MGTF 'sport' suspension kit has been developed to maximise body control and response. Using the same hardware as our 'comfort' kit, we have carefully retuned the valve characteristics to offer much more targeted performance for those wishing to enjoy their car on track days. Retains sufficient compliance for everyday use and avoids the crash and jerk disturbance often associated with so called sports suspension. Can be tried on our demonstrator. Kits are built to order. £599+VAT
POWERFLEX performance parts are now available from VHS. As a POWERFLEX dealer, we can supply bushes for your MGTF and any other car you may wish to upgrade. Contact us for details.
MGTF big rear brake kit – replacement discs £80+VAT/pair still available. More details.
MGTF lowered seats. Many enthusiasts complain that they sit too high in MGTF. We have developed a modified seat frame which lowers the driving position by 20mm, so that you sit in rather than on the car! This avoids the expense and complication of fitting a competition seat and retains all the benefits of your original seat. Please contact us for details. From £120+VAT exchange. Also suitable for MGF. More details.
MGTF bespoke lower arms to provide correct castor and camber – this will get rid of unwanted brake pull, veer and insecurity on undulating roads. From £120+VAT exchange. Also suitable for MGF. Contact us for details.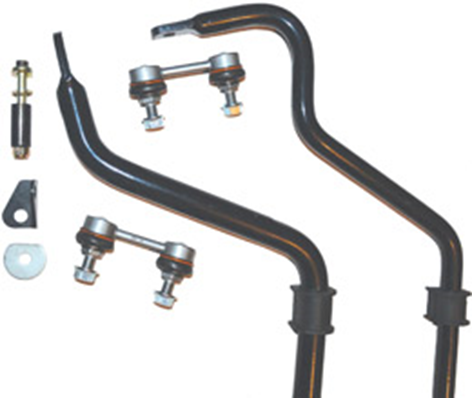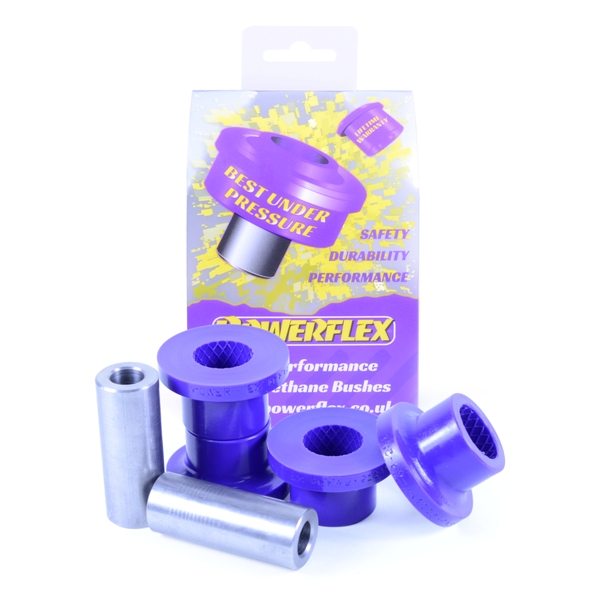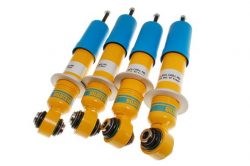 ---
MGF
NEW PRODUCT for MGF from VHS. Our MGF 'dynamic' damper kit has been created with Bilstein. Using their monotube technology, we have developed a specification which provides the control and agility of the MGF Trophy derivative, but without the associated harshness. Damper forces have been carefully considered so as to avoid the need for any damper top mount strengthening. These units are a bolt on replacement for the OE dampers on any MGF derivative. Can be tried on our demonstrator. Kits are built to order. £POA
MGF big rear brake kit – no longer available. Please see above for replacement discs.
MGF lowered seats – please see above.
MGF bespoke lower arms – please see above.
MGF solid subframe mountings, including new OE specification nuts and bolts (as used on MGTF) to give your car the integrity and responsiveness that it deserves. £100+VAT. Note that individual items can be purchased separately. More details.
>MGF structural integrity kit (as used on MGTF) used in conjunction with solid subframe mounts to give your car the integrity and responsiveness that it deserves. £150+VAT. More details.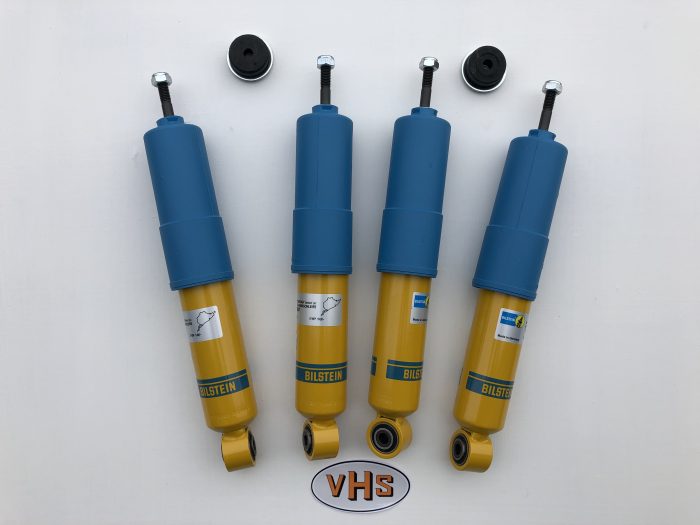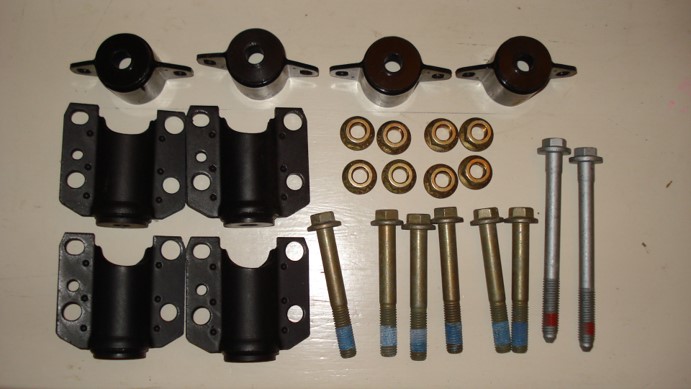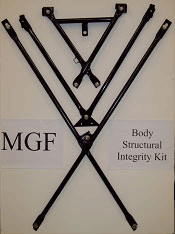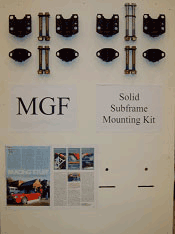 ---
MG ZS
MG ZS suspension upgrade. This kit consists of four high quality Bilstein monotube dampers, tuned to provide a mature dynamic performance. The overtly sporting character of the original ZS is retained but with significantly more refined ride quality. The dampers are a straightforward replacement of the original units. Compatible with both OE and Xpower springs. Stock now available. New (lower) price £499+VAT.
MG ZS lowering spring kit. We have recommissioned the ZS Xpower spring kit developed in the days of MG Sport and Racing. Springs have been manufactured (including a powder coat of 'Xpower Green') for MG ZS180 and diesel derivatives. Stock now available. £200+VAT.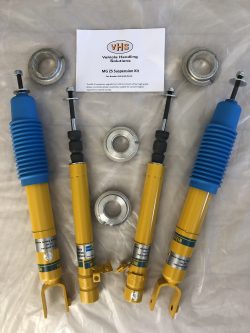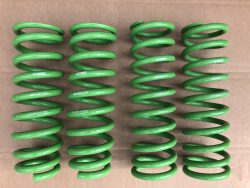 ---
MG ZT fwd
MG ZT and ZT-T lowering spring kit for V6 and diesel engine derivatives. This is our own development of high quality Eibach springs to provide a 20mm ride height reduction. They are finished in 'Xpower Green' and are available exclusively from www.xpowerparts.co.uk at £200+VAT.
MG ZT 260
MG ZT260 Suspension upgrade – our own development of high quality Bilstein dampers allied to Eibach springs provides a 15mm lowered stance and much better steering response and agility. Kits will be remanufactured if there is sufficient demand.
MGZT260 front strut and rear damper refurbishment. We have arranged a kit which provides spring aids (bump stops), shrouds, lower bushes and all original labels for a functional and cosmetic improvement. Please contact us or www.xpowerparts.co.uk for details.
MGZT260 lowering spring kit. We have completed our development of a lowering spring kit with appropriate rate increases. The springs improve stance by lowering the car 15mm. The revised spring rates provide increased agility and progression whilst maintaining dynamic ground clearance. Our supplier partner is Eibach, which provided the original springs for these cars. Now in stock. £275+VAT.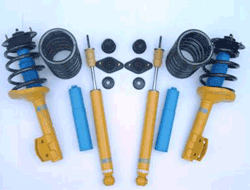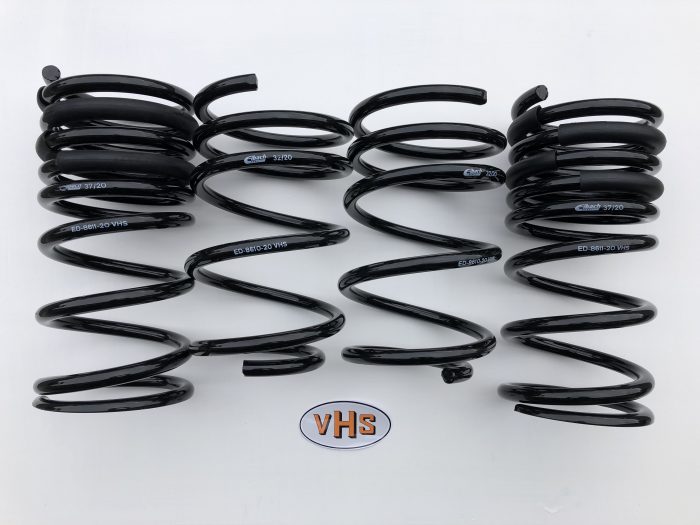 ---
Product Development by VHS Ltd
MGF and TF Big Rear Brake Kit
Need a better rear brake for your MGF or MGTF? We thought so too!
Larger diameter disc (266mm)
Adaptor brackets to use your existing rear calipers plus new fixings
Increased thermal capacity
Greater brake torque
Will fit inside 15" wheels
Improved style
All the benefits of your standard calipers but with improved performance.
Replacement 266mm discs also available £80+VAT (per pair)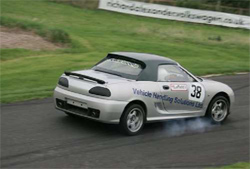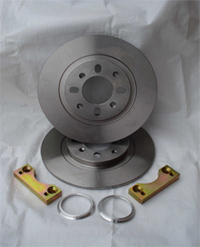 ---
MGTF ride improvement kit from Vehicle Handling Solutions Ltd
The best ride quality is delivered when all of the available wheel travel is used in a progressive but controlled way. To achieve this on MGTF VHS has developed a new damper setting, utilizing a much larger Bilstein damper matched to a new polymer spring aid, to replace the standard hard rubber bump stop. The philosophy has been to retain the vehicle handling via use of the standard springs and anti roll bars whilst improving the ride comfort through better damping. The MGTF is a prime example of a car that has a suspension system suited to high pressure gas charged mono-tube dampers. VHS were well aware that by changing the damper design ride comfort could be significantly improved. Unfortunately high quality, monotube dampers were not factory built on MGTF due to cost considerations.
The kit utilizes a high quality German made Bilstein damper unit. The damper is of a monotube type construction, meaning that the outer tube forms the working cylinder. This allows a much larger valve area, having a working volume of 100cc compared to the standard MG fitment of 37cc. The monotube design generates compression damping forces from the whole piston area unlike the standard TF units which rely upon the much smaller effective area of the rod. The ride comfort is improved primarily because the same damping forces can be produced at much lower cylinder pressures; in addition improved valve response allows better overall damping control. The effect is analogous with small and large capacity engines of equal power output i.e. they do a similar job but the larger engine is much more relaxed about it. For these reasons MGR used Bilstein dampers on Rover V8, MGZT 260 and MG SV vehicles. The kit has a two year guarantee and the dampers can be fully rebuilt and re-valved if required.
The kit has been developed by ex MG Rover ride and handling engineers using Bilstein UK, state of the art engineering facilities.
Complete Kit £599+VAT.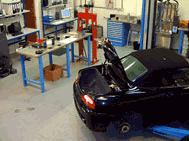 ---
MGF Body Torsional Stiffness Kit
Is your MGF feeling tired? Are you fed up with squeaks, rattles and the rear view mirror vibrating? Why not try our torsional stiffness kit?
This kit can be supplied in two parts (with a discount if purchased together). A significant increase in torsional stiffness of the body structure helps to improve the vehicle handling and steering feel. The kit also significantly reduces structural shake and improves the ride refinement by reducing rattles.
Comes complete with all fixings and necessary brackets to fit to a standard MGF bodyshell and full set of instructions.
---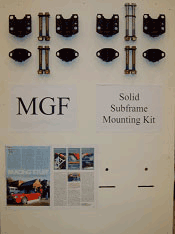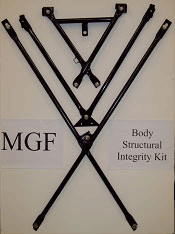 ---
Driver Ergonomics
Are you sitting comfortably? Appropriate ergonomics will help you to feel at ease with the car; giving you the confidence to exploit the chassis and enjoy your driving. We offer a revision to the MGF/TF seat frames to lower the hip point, making you sit 'in' rather than 'on' the car. Other adjustments are also in development.
Contact us for details and to try our demonstrator vehicle.