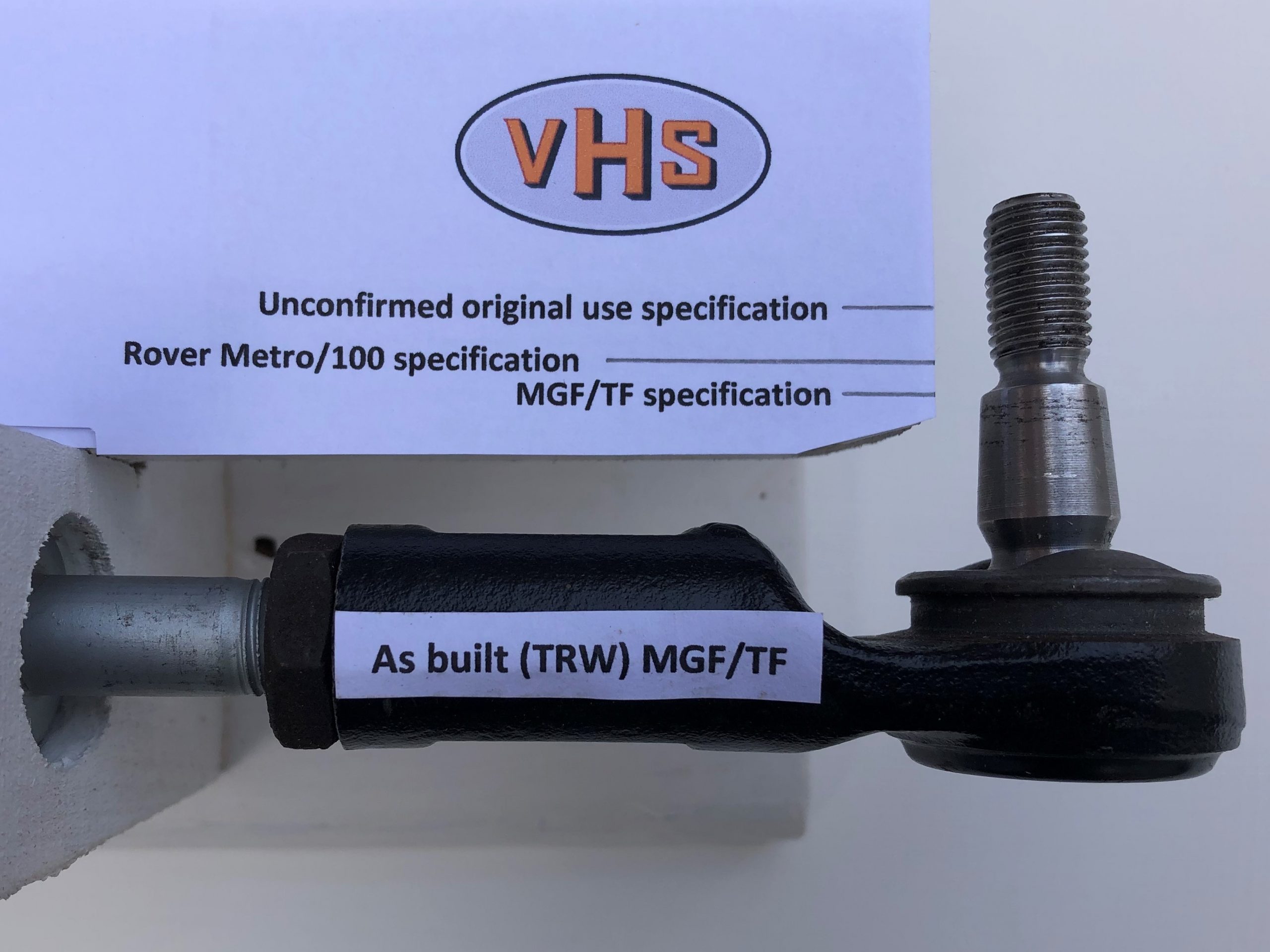 Our MGF project car is probably the only MGF to have front axle caster and camber values which are exactly nominal. It is probably no surprise that the original MGF press cars were carefully adjusted to achieve such values, but this required a laborious process of adjusting the outer lower ball joint position. Through the design and manufacture of a set of fully adjustable arms, we have made the whole process much easier. They are a direct replacement for the original arms (which are often suffering the effects of corrosion) and we will be supplying them with original or Powerflex bushes. There will no longer be any excuse to have an MGF or TF with caster and camber problems.
Nominal caster and camber will obviously contribute to making the car work as the manufacturer intended. Our car had low caster and asymmetric camber across the front axle. As received, it was unpredictable and nervous. Having fitted the VHS 'dynamic' damper kit, (see our August 2020 blog at www.vehiclehandlingsolutions.com/how-to-increase-the-value-of-an-mgf ) the control and fun aspects of the chassis were renewed. But the uneasiness when braking and inconsistent steer response remained. Fitting and adjusting our adjustable lower arms gave an immediate improvement in consistency and security. It can be driven hard, and it delivers.
So, a great result. Well, almost. The car demonstrated a rather dull and slow steer response. A deliberate rotation of the steering wheel, rather than a roll of the wrists to turn into a favourite bend. Hmmm. With nominal caster and camber, the resulting bump steer should be sensible. A check and plot of the results showed great symmetry, but rather too much toe out in the bump direction. A quick calculation determined the amount of spacing required under the steering levers. Once fitted, job done. It works as intended.
[Talking of cars working as intended, I recently drove an MG3 fitted with the VHS 'lowering spring kit'. It was good to be reminded of the decent handling traits of the standard car, but with even greater levels of agility and responsiveness. And the lower ride height looks great. Other lowering spring kits are available for MG ZS, Rover 75, MG ZT, MG ZT260 and (coming soon) MG ZS EV.]
A client's TF has been fitted with the VHS 'sport' dampers. We were delighted with the control and composure around our test route, but the steering seemed rather too direct and nervous.
As an aside, we know that low and/or asymmetric caster can lead to a bump steer problem on MGF and TF. This results in brake pull, veer and instability. The aforementioned press cars were adjusted to avoid this. However, a quicker (if incomplete) solution was to fit a different track rod end with a repositioned ball joint centre. Remember that the axle concept was derived from Metro/Rover 100. These cars had lower caster and the ball joint was in a different place to produce the designed bump steer – by virtue of a longer ball pin.
So, what is the cautionary tale? The bump steer on our client's MGTF was found to be incorrect and in line with the steering behaviour. What could be wrong? It was almost as if the car was fitted with Metro track rod ends. Actually, it was! The picture above shows a simple jig which allows track rod ends to be checked. Note the height from the ball centre (which can't be seen but can be predicted by the track rod) to the top of the taper. Just because a part fits, it doesn't mean it is correct. Checking a few suppliers of replacement track rod ends has shown that many parts are dimensionally incorrect. Be cautious. Confused? Contact VHS Ltd.
We have the answers and the most nominal MGF geometry in the world…probably.
---