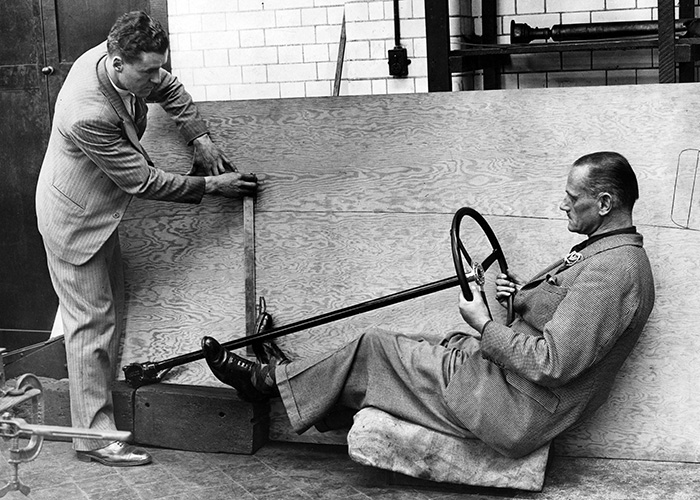 My favourite road (VHS blog August 2022) got me thinking about surface features which can challenge the car and make the work of a vehicle dynamicist ever more interesting.
Many years ago, I lived in the Shropshire hills and used a wonderful B road on my daily commute. Ideal road test territory and I knew every feature. However, not every traverse of this tarmac went smoothly. The roads were clear when leaving Longbridge for my first ever drive in an MGF, but it was soon snowing heavily. It took two hours to drive the last 10 miles! Still, I got to practice my car control and ensured that the lock stops were durable…….
A rather embarrassing occasion was when testing some very expensive 18" tyres. The tyre manufacturer offered a set of prototypes for the MG ZT190. It seemed sensible to do a gentle road assessment before visiting the test track, so they were fitted to my car for the journey home. After 24 miles I turned onto 'my' road and started to enjoy myself. Two minutes later, I was parked with punctured left-hand tyres front and rear. So much for the gentle test! I had run through a pothole that I could swear had only just appeared.
As a young engineer in the Chassis Development department, I was delighted to be invited by my boss to join him on a road trip in an Austin Montego diesel estate (!). One of his favourite routes to Longbridge required the negotiation of a humpback bridge, which (whilst exciting at the 'right' speed) had never caused his cars a problem.
The launch of the diesel engine in said Montego did lead to a number of customer complaints, messy roads and expensive repair bills. The packaging of the engine was tight and the sump was level with the subframe (on the drawing board). Unfortunately, g forces would see the engine continue downwards if the car struck the ground whilst traversing such a bridge. It was an ideal test feature to check out a series of (sticking plaster) modifications that I'd been working on; increased ride height, bump travel restriction and a skid. Yes, a skid! It was made from substantial box section, bolted to the subframe. It made a really good warning noise if the ground was struck and kept the car high enough to protect the sump. It became an official Rover Group part which could be fitted by dealers to cars at risk (Irish roads were particularly tricky).
I was taken to the bridge and told to observe as he drove the car over the obstacle at ever increasing speeds. After each run, he would disappear for a few minutes to turn around. Whilst waiting, an elderly chap with a walking stick joined me to discuss the weather and to find out what I was doing. My explanation was cut short by the roar of the Montego approaching at the 'right' speed, followed by a rise in revs, a terrific crash and then merciful silence. Looking round to continue our chat, I was horrified to see the chap on his back in the hedge. Mercifully he was OK but had decided to take temporary refuge during the test run. He professed interest in our work and wished us well, before wandering off to tell his friends all about it. As there was a lack of oil on the road, my boss thankfully declared that the test was a complete success.
A sustainable solution to the Montego diesel oil crisis.
---