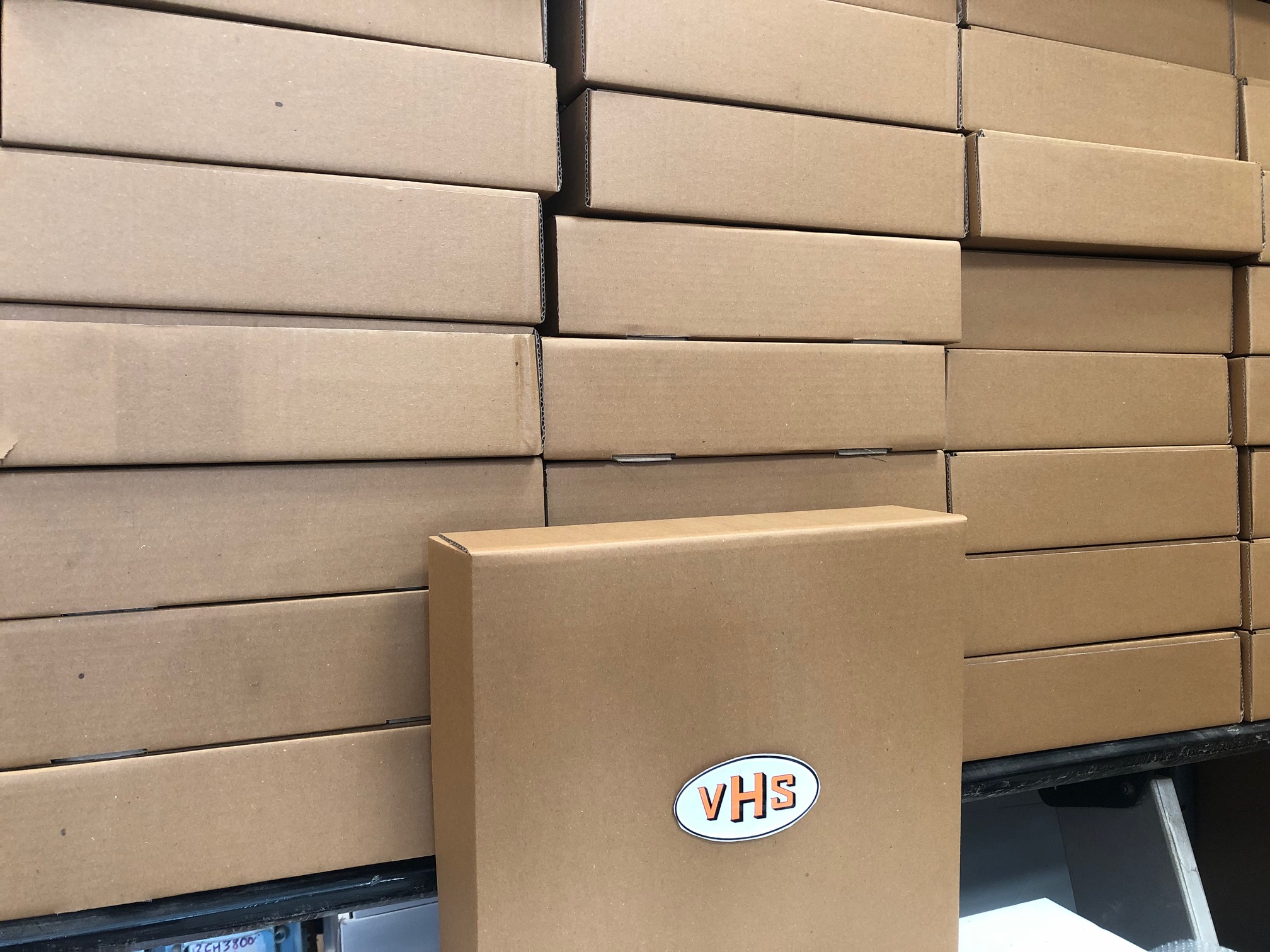 How many pizza boxes can you fit on a TF rear wing?
This month has seen us finally be able to assemble our adjustable front lower arms for MGF and TF. As previously discussed, these arms are a direct replacement for the original parts (many of which are suffering the effect of corrosion), but with the benefit of being able to adjust both camber and caster on car. Finally, we have a solution to the tolerance effects which have blighted many of these cars. It is very satisfying to solve 'problem' cars, but to also 'optimise' apparently good cars to the delight of their owners/drivers.
The pizza boxes are actually rather more substantial than your usual cheese feast. Taking note of the process used by our local takeaway, I decided to make up these boxes in preparation for the assembly of the lower arms. They take up a lot of space, so a handy shelf was found. It reminded me just how large the rear wing is on the back of our MG TF sprint and hill climb car.
Our car has been developed over several years, to showcase our capabilities in setting up such a car. The target is to have excellent traction and agility, whilst retaining sufficient stability for higher speed corners. The TF has inherently good traction and agility can easily be dialled in due to the mid-engined layout. So far so good. Unfortunately, higher speeds created problems, due to the aerodynamic lift created at both ends of the car. As we don't need to carry a spare wheel, the radiator is generously vented through the top surface of the bonnet. A known route to turn lift into downforce. My early attempt to balance this was a simple surface mounted 'flip' on the rear boot lid.
I had the opportunity to do a sprint at Silverstone. Great news, high speeds, what isn't to look forward to? My colleague offered a front splitter, so it was bolted on. Great turn-in behaviour at high speeds. In fact, rather too great. Losing the rear meant the requirement to open out the steering and accept a harmless trip over the grass. Oops. I had to pick up the remains of the splitter at the end of the event.
Clearly the aero performance could give great benefits but required tuning. Balance was required. Enough time has now passed for me to admit that the car managed to get tested in the MIRA wind tunnel. An amazing bonus, squeezed in at the end of a night shift when the MG Rover work was done. Substantial front down force confirmed. A flip at the rear just wasn't enough. Time for a high mounted rear wing.
It is amazing what details can be found about wing sections and the likely lift (downforce) and drag that can be created. It is also amazing just how much can be charged for a ready-made wing. Have you ever built a model aeroplane? Plywood sections, skinned in very thin ply were glued together on the kitchen table. Working on the 'just in time' principle, it was fitted to the car (in Dulux white primer) the night before a sprint at the fabulous Anglesey race circuit. Did you know that scrutineering offers just enough time for your partner to apply gloss black paint because she thought my efforts needed a more professional finish? I'm just relieved that the start line marshal was wearing gloves when he used the (still sticky) wing as a handy handle to position the car……
Did it work? Too well to start with. Understeer for the first time ever on the high-speed entry to the first corner. Simple angle adjustments between runs soon dialled in the balance I was hoping for. Now for more power.
How many pizza boxes can you fit on a homemade TF rear wing? If you have genuine downforce, quite a few apparently.
---