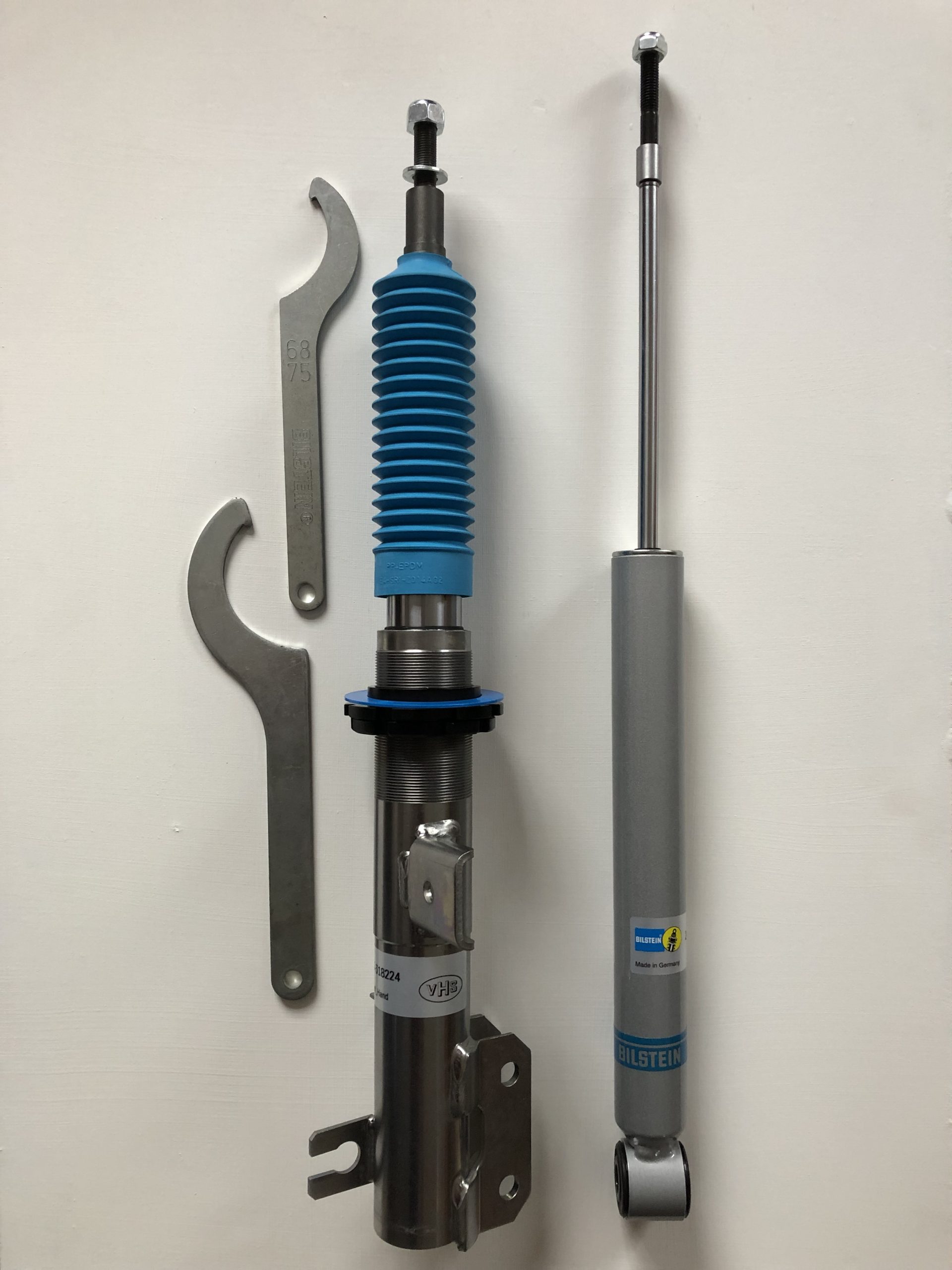 It has been a while, but our MG3 sport spring and damper kit is now in stock. Making use of Bilstein monotube dampers and Eibach springs, we have developed the kit to enhance the enjoyment of driving an MG3.
The front struts give a substantial increase in camber stiffness. As cornering forces increase, a strut arrangement will always suffer some level of camber loss due to bending of the rod and deflections within the assembly. This movement also affects the steered angle of the road wheel. The monotube unit massively reduces the deflections, thereby preserving camber and maintaining steer precision.
Attention to detail has seen a damping specification developed which really controls the motion of the car, yet has sufficient fluidity avoid crashing and harshness often associated with 'performance' dampers.
Our spring rates have been selected to add roll stiffness, poise, and a more neutral handling balance. The stance has been lowered and we have included the ability to adjust the front ride height (we even provide the correct spanners to do this). This offers further choice and optimisation 'to taste' and we are also aware of modified cars where the front axle weight may have increased (a turbo adds boost, but also mass).
We have devoted many hours of experimentation and tuning to develop this kit. We love the benefits and particularly enjoy the enhanced steering response and adjustability, mid-bend. Three different cars have been used, including the extremely rapid K turbo-engined version at Retro Sports Cars.
So why was it a surprise when we bolted the production set of parts to my son's MG3? Alan and I took the car for a lap of our local road test route (the self-same loop that we used for developing the original production MG3 and all other SAIC MG models). After taking a gentle run out of the town, enjoying the maturity of ride yet purposeful control, it happened. The first complex of bends with an awkward crest? We didn't need to say anything. We just laughed out loud.
Worth the wait? We think so.
---